Ola mi chico's and chicas!
I have returned from my holidays and I'm back like a vertebrae!
I'm a bit out of touch on rugby news and things at the mo, so I'll just have a wee ramble and break myself gently back into blogging!
Gold Standards
Bit late on this one, but Fiji won their first EVER olympic medal in the rugby 7's, destroying GB in the final. The buzz surrounding the 7's was amazing, with plenty of non rugby fans 'converting' themselves to the shortened version of the sport. I'm the first to admit that I'm not the biggest fan of 7's, it seems a little 'British Bulldog' to me at times, but the olympic tournament was fantastic and the Fijians were almost unstoppable in the final. Plus the endearing image of the post match singing is one of the most memorable moments in any sport! I'll always cheer on my home nation in a sporting event, but I have a huge amount of love for the Pacific nations and I was delighted to see them take the gold! 
Vern's dynasty
Nobody can deny the upward spiral the Scottish national side has been on under Stern Vern Cotter, and it's a bit of a body blow to them that Vern has announced he will be leaving his post in June, with former international fly half and current Glasgow head coach Gregor Townsend set to take the reigns after the Warriors Pro 12 campaign. Glasgow are a tough nut to crack nowadays and thats largely down to Gregor, if he can instill the same winning mentality into the national side, Townsend will be a worthy replacement to carry on Cotter's good work.
Cotter has brought in a mental toughness and a new style of play that hides the frailties and accentuates the positives and he could have set the wheels in motion for a Scottish resurgence. Let's hope that is what he'll be remembered for and not cruelty to rabbits! ;-)
Transatlantic Pro-12?
It seems the Pro 12 is about to grow, with potential teams from the USA and Canada looking to join. Whether this is good for the league is debatable, could the Italian sides and some of the less well off Celtic sides afford to be taking regular trips across the Atlantic for matches without risking bankrupcy? Is there a viable amount of interest for a big TV deal to be struck (especially in Europe)
The flipside is that this could be a huge step in breaking the sport into the North American sporting pantheon, helping the fledgling American pro league to increase their fanbase, maybe even steering some of the exceptional American collegiate athletes into focusing on rugby rather than American Football.
It's an intriguing situation, and certainly has more of an upside than the rumoured defection of the London exiles teams joining the league instead. The question is financial viability! I really hope it works out, though!
Lions logistical loggerheads
The Lions organisers have ruffled some feathers (fur?) this week with the tour schedule being announced and the first game set to take place just a week after the Pro 12 and Premiership finals. Is the schedule too heavy? Is the timing wrong? Are the Lions dated?
My answer to them questions are NO, NO AND NO!
Say Saracens, Wasps, Leinster and Ospreys reach the respective finals, do you think the likes of Farrell, Launchbury, Sexton and Wyn Jones would turn down the honour of Lions selection due to being in the final? No, they wouldn't. They would be there ASAP, they would train ASAP and would probably sit out the first game but they'd be itching to pull on that famous red jersey and go to war. That's what they do.
They will be match sharp, they will be eager to prove themselves against the rest of the world. Yes it's another long season, but the respective Unions thought nothing of extending last season for their tours, so why should the Lions be different?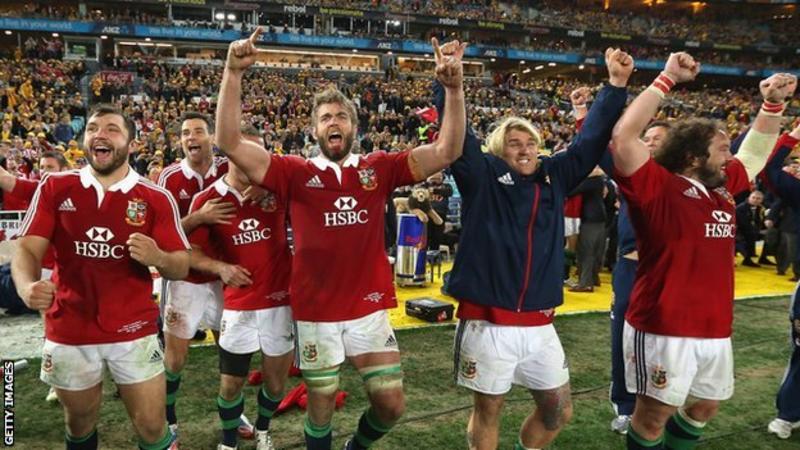 The touring party will be big enough to mean that the players will get plenty of weeks off and the first test isn't until June 24th, a whole month after the finals, if, as expected, a larger tour party is named, most of the Lions first XV will probably only play 4 matches, with the other 6 games made up of the fringe players, yes it's a tough task, but reality is, the tour schedule of 10 matches is the same as the last 2 tours. 
I would wager that there would be far more uproar should the tour be cancelled and the Lions disbanded than there is for a crowded schedule.
My Meme misery....
As my Twitter followers may know, I like to occaisionally create meme's.... I love it when they're shared, especially when they randomly appear on my social media some time later. However, I stopped making them regularly due to a few issues with content being......borrowed.... I'm aware that as soon as you put something on social media it becomes public property, but it really peeves me when it gets passed off as someone elses work when I've taken the intiative to do it.
I've said on here before about my falling out (well, my blocking by....) the rugby banter page when I called them out over taking my meme's, putting their logo on it and passing it off as their own, at the time, someone suggested that I put the #rugbyunited logo on any future creations to 'watermark' my memes, so ever since then, I've done just that.
So.... imagine my surprise, sitting in a glorious beach bar in sunny Es Canar, cold cerveza in hand, when this picture appeared on my Facebook timeline.... 
because to me, it looks very much like this one....
Yeah, it's been given a filter and a new logo (on a solid background as opposed to their normal style, almost like they are covering something up......), but other than that, it's identical....and for the record, the #rugbyunited one was posted on August 30th 2014, and sits in the #rugbyunited originals album of our Facebook page (check for yourselves https://www.facebook.com/rugbyunited/photos/?tab=album&album_id=882419265117826)
So what annoys me more than most, is checking the RugbyLad Twitter account, I see this retweet 
 where Trevor gives the credit to them for a video he shared and even shares their Twitter account so perhaps they can get more followers.
We pride ourselves at #rugbyunited of trying to help other accounts, we always give credit where it's due, whether it's an account that's afiliated to us or not, and that's something we will continue to do, for example, up above in the Lions section, I used a photo from Getty Images, I haven't covered their logo or tried to pass it off as my own, also on the Batman meme, I've left the Imgflip.com (the site I used to make the meme) logo on the picture. 
So from now on, IF I make any new meme's, or make any original content and it ends up being passed off as someone elses work elsewhere, I will be calling people out on it. If people want to use #rugbyunited's various accounts to promote THEIR product, I expect in return that credit will be given where it's due the other way round. It may be petty but I don't see why we should get used to get coverage for someone else. We don't get paid for what we do and we work damn hard at it. I wouldn't accept people plagiarising my blogs, so I won't accept people passing my other work off as their own.
woooooooooooooooooooooooooooo.... glad to get that off my chest
(NB- I have, since writing this, exchanged emails with RugbyLad and have received an apology and a promise this won't happen again. I'm happy enough with that!!)
anyhoo. I'm off to mourn the fact I'm now in Dudley rather than Ibiza. 
laters!
RCK