This blog is a few days overdue, I apologize for that!
As you may have noticed from the activity on some of our #rugbyunited accounts over the past few weeks, we were invited to a special 'Lunch with Lions' event by the organisers Aitch and Aitch Bee (https://www.aitchandaitchbee.buzz/) It was originally stated that it would be Adam Jones and Andy Powell as the star guests, but due to unforeseen circumstances, we welcomed Ian Evans and Richard Hibbard as the stars of the show. 
I'm going to take you through the day (may not be in exact chronological order but it'll be an account of the events!)
Firstly, we (by we, I mean myself, my Dad and my Stepmum) arrived at the beautiful Chase Hotel in Ross on Wye, to meet with Trevor, James from @RugbySaracens, Gareth from @RugbyWal, Michelle from @rugbylions17 and her Auntie Diane, our competition winner and friend of #rugbyunited Charlie from @HelpsCharlie and the newly christened @TrevsFriendFromTheRugby, Bob. Our fantastic group of 10, the Table 5 Allstars!
(picture courtesy of Trevor)
A quick drink and perusal of the awesome sporting memorabilia on the silent auction was a precursor to taking the table for lunch, where we were introduced by Mark from Aitch and Aitch Bee to our two charitable benefactors for the event, St Michaels Hospice (https://www.stmichaelshospice.org.uk/) and the ELY memorial fund (http://ely-memorial-fund.org.uk/) who briefly talked us through their wonderful work, please check their pages for full details!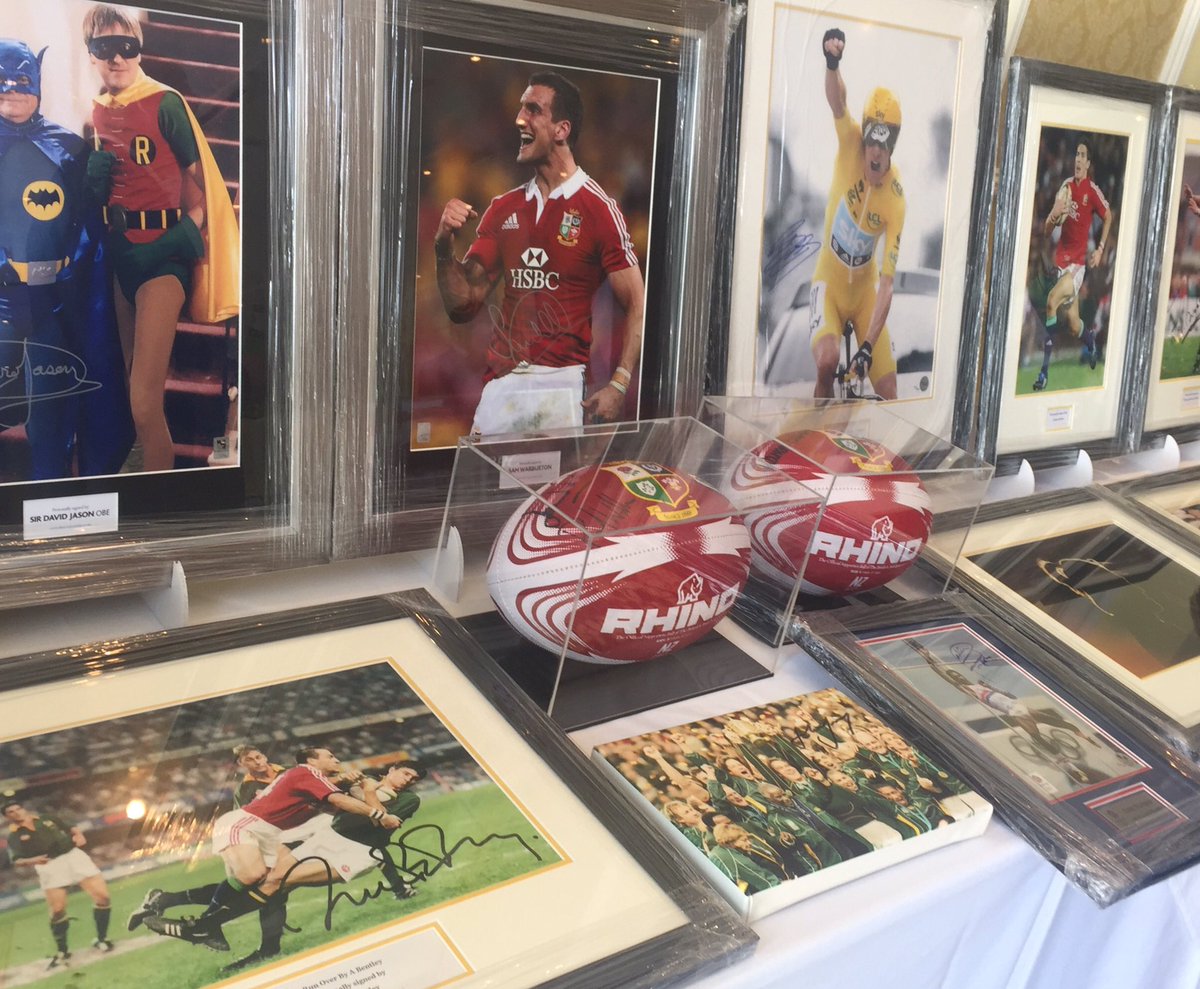 We then made our raffle donations and chose our table leader - which was Trevor, against both our collective better judgement and his wishes..... although it wasn't a taxing job as we missed what he was supposed to do....
The first course arrived and it was smoked salmon with fennel coleslaw (for you foodies reading this) and it was delicious!
After demolishing the salmon, Mark led us through a game called 'Heads and Tails' everyone put a pound in the pot and had to stand up, answering a 50/50 question by either placing your hands on your head, or your backside. The questions were all based on the guests, Ian Evans and Richard Hibbard, who interestingly both went out in the first 2 rounds answering questions about themselves. Charlie managed to get to the final round (prize was a bottle of champagne signed by the guests) but unfortunately lost out to table 4!
There was also a few live auctions for various signed items, which put a fair few quid in the charity coffers and then it was time for our main course! 
(picture courtesy of Charlie)
After the main course, there was a Q and A with the former Lions, both guys were very relaxed and funny and gave us some great insights behind the scenes of the Lions tour in 2013. Some of the anecdotes are probably not my duty to share with the #rugbyunited audience, but there was some hilarious moments, and some surprisingly not surprising opinions of some of the current crop of internationals. When asked for the tour predictions, Hibbard went 2 - 1 Lions and Evans 3 - 0 to the Kiwis and were in agreement that the likes of Joe Launchbury should be on tour!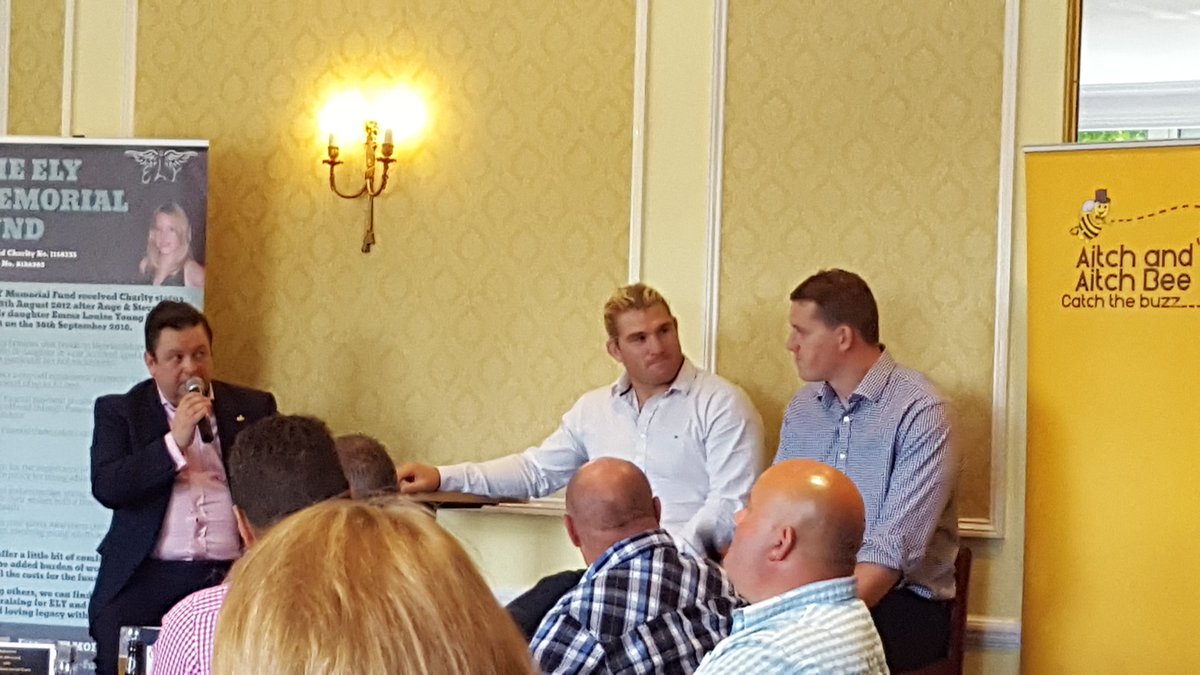 At this point the bids for the blind auction were closed and the Lions gave some photo opportunities to the other lunch-goers.Several of our table had their pictures taken, you can check their links later for those though!
Dessert was then served (chocolate terrine with marinated cherries.....YUM) before the auction and raffle winners were announced. It seems Table 5 were pretty good with the blind auction, we won 5 prizes between us, Diane got the framed, signed Wales jersey, Gareth the signed Lions ball, my Dad got the signed John Afoa print, Trevor the signed Hibbard pic and I got the Charlie Sharples one....obviously....I f**king love Charlie Sharples!
And that was that!
A rather enjoyable lunch time with great food, entertainment and company.
Many thanks again to Mark and the Aitch and Aitch Bee guys for the invite!
photo courtesy of Charlie
Social media links!
@AitchandAitchbe - The organisers - check their upcoming events! An evening with Sam Warburton is the next one!
@theChaseHotel - our hosts. a wonderful, picturesque venue!
@ElyMemorialFund and @StMichaelsHosp - the beneficiaries of the event, 2 more than worthy causes! PLEASE check them out and help if you can!
@RichardHibbard2 and @__Yanto - The Lions and speakers for the day. 
@Rugbyunited, @rugbywal, @rugbylions17, @rugbysaracens, @helpsCharlie - The table 5 all stars!