I think I'm about to upset some Scottish folk....
Apparently Craig Joubert is solely responsible for Scotland exiting the world cup. To be fair, he made some bad decisions, but not the ones you'll think I'm going to mention. 
Joubert incorrectly penalised Scott Sio on at least 2 occasions, that both lead to Scottish points, for scrummaging infringements that were blatantly down to Ally Dickinson being unable to take the pressure at scrum time. Maybe them scores should be chalked off as well as the final one!!
For one, tournament guidelines on TMO use is clear and he couldn't go to the TMO for clarification on the decision to award a penalty.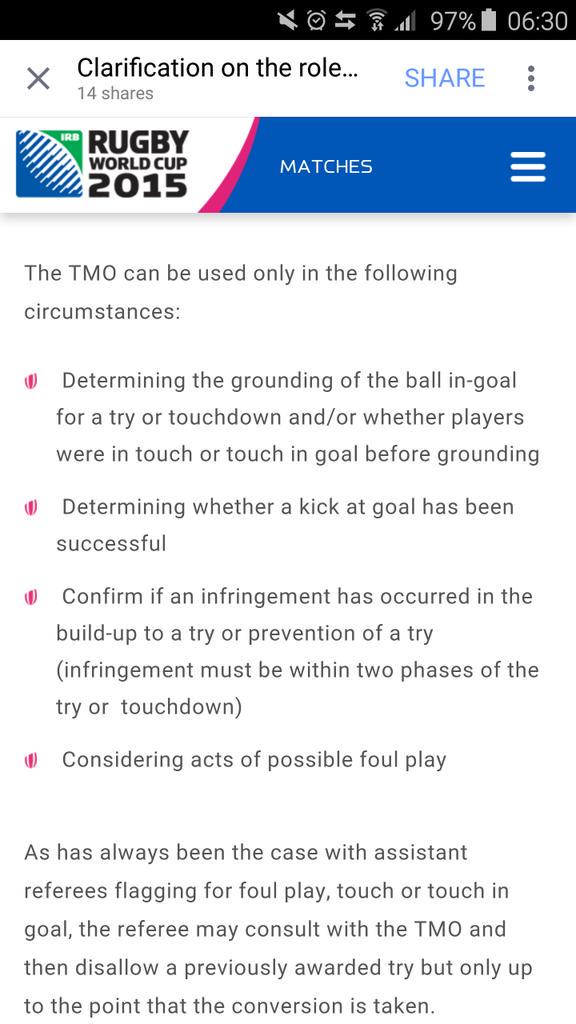 Secondly, the ball seemingly hits Strauss' shoulder, then it's touched by Nick Phipps before finally being picked up by John Welsh who was never onside from Strauss' potential knock on. As i say, the decision couldn't be referred to the TMO, the ref therefore can only call what he saw, the assistant ref didn't call anything different, therefore the onfield decision is given and is correct. (NB - World Rugby have just released a statement saying Joubert made an incorrect call. changes nothing about this blog, the ref can only call what he sees.)
Greig Laidlaw pleaded that the ref should use the TMO, something he didn't do last week when he himself knocked on before the clinching try against Samoa. That IS something the TMO can be involved in, if that try hadn't been scored, it would have been Japan playing Australia, so maybe karma came into play. Natural justice? 
Let's also not forget, the game wasn't over even if Australia were awarded a scrum rather than a penalty. Australia would have had the ball in an are rife for a drop goal, a scrum penalty or even a try. Many if's and buts in that scenario, but the game was certainly not a gimme if the penalty hadn't been awarded. Another thing to remember is it all came from awful Scottish decision making at the lineout, throwing a long ball to the back, in the rain, whereas a front ball, followed by an up the jumper rumble would have seen the game out easily.
As for Maitlands yellow card, another 'example' of Joubert's 'bias', there simply ISN'T controversy there. If you reach for an intercept one handed and knock on, it's generally a yellow card. You consistently see it in all forms of senior rugby. And it was actually a punishment that the TMO agreed with as he and Joubert said "yellow card" almost in unison. Joubert is also SO biased that he correctly questioned a marginal knock on by Will Genia leading to what looked to all the world like Adam Ashley-Cooper's second try. Where was this 'hatred of Scotland' then? Or did it just develop in the last few minutes!? He should have looked at Mitchell's clattering of Hogg leading up to the final penalty, but to be fair, Mitchell looked pretty much committed to the tackle and beyond pulling out at the time of impact, and with Hogg's previous for....erm.... simulation, maybe Joubert felt he was milking it. Again, the ref can only call what he see's. Another example of Karma?
Even if Mr Joubert wasn't right with the final decision, rugby has an ethos of respecting the referees. Mssrs Dawson, Logan and Hastings were at the forefront of horrific vitriol fired at Joubert, both claiming he should never ref another match after his hasty exit off of the pitch, as well as Mr Joubert getting the all too predictable social media backlash. Hastings himself was already confused by the laws of rugby after slating Finn Russell for failing to call a mark from kick off.... which you are unable to do, so do we really need to rely on him for a lecture on upholding the laws of the game? By the way, Ugo Monye, Michael Cheika and several others have said they saw projectiles in the form of water bottles being thrown at Joubert, with hindsight, maybe he did the right thing by high tailing it out of dodge! If the bottle throwing is true, that is a totally unnacceptable occurence that is far worse than a call being made wrongly.
With regards to the Social Media abuse, let's rewind to about 24 hours earlier..... Wayne Barnes was in the same boat. No-one could pinpoint why, but Jonathan Davies and Non Evans (amongst many more) were adamant that Barnes was at fault for the Welsh loss. A view, admittedly, not all the Welsh shared, but yet another example of unfairly blaming the ref.
Even the printed media got on board. Several papers were full of anti-Joubert propaganda. How are we supposed to teach kids that are just starting their rugby journeys to respect the ref if these professionals, whether journalist or player, clearly don't. Trevor posted a couple of blogs a few weeks back about Respect in Rugby and the reasons why we should bring it back. If the existing fans can't keep the respect that we claim seperates us from other sports, then we are on a slippery slope. 
The worst of all is the fact that what was a GREAT game of rugby will only ever now be remembered for 1 decision. Which may or may not have been wrong. And that's a shame. All ref's will make mistakes during a game. The only way to counteract this is to replay EVERYTHING. At that point, we may as well give up and watch a quicker sport, like American Football or Test Cricket.